Demon Catchers and Greenbacks
Free Greenbacks
With all the Federal Money floating around, we thought we would do our part and give some Greenbacks away ourselves. As I was deep cleaning all those unmarked boxes in our closets, I found a case of a special edition of Greenbacks
We want to spread these around, so if you just want some, send us a self-addressed envelope to
Mark Henson Art
4140 West State Highway 20, Upper Lake, ca. 95485
and I'll send a bundle your way. If you have a "get out the vote project", email us and I'll send you a lot of them. Or if you order anything on out website until election time, I'll include them in the package. Spread them around, they have an important. message. A part of Mark's New Pioneers is in the center of the front. We have a lot of healing to do, and getting a new administration is the first step.
Demon Catchers
With our faithless leader supporting witchdoctor cure alls, if you are suffering from "Demons", try this.
In the 70's Mark spent a lot of time in the far east, visiting India, Nepal and Indonesia collecting traditional artworks and handicrafts. We can't travel to these places right now, no countries even want us to come in as we are considered dangerous and carriers of disease. In Tibetan Culture there were Deities to help mankind through our troubles.
In one closet I found hundreds of Tibetan wood block prints on hand made rice paper depicting Tibetan Gods and Goddesses.
I have all 12 here on this page called Demon Catchers
You can have one for free with any order placed in August and September. Just add it to the cart with your order and I will send it with your art.
Wall Masks
We are running a tapestry special through September as you may be tired of looking at your walls. If they need an uplift, try covering them with a wonderful, light weight, colorful wall mask. They are sun-fade-resistant, stain resistant, washable and easy to hang with corner tabs. Made from microsuede (recycled bottles), made in America, you can change the atmosphere of any room with these large images. Can't go to the beach? Yes you can, every day!
How about a trip to the clean moist air of a rainforest jungle?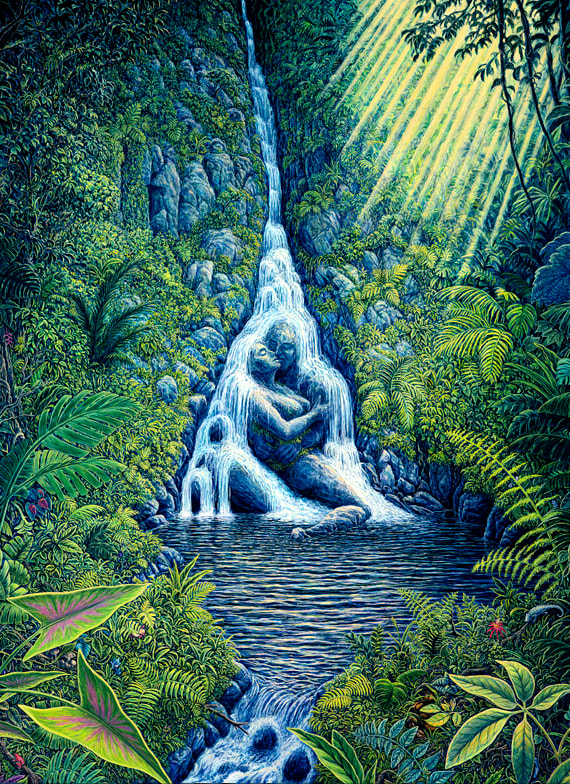 Perhaps a trip to your trusted herbalist
Or an outing in the middle of the Desert, there is nobody out there, pretty safe place to be.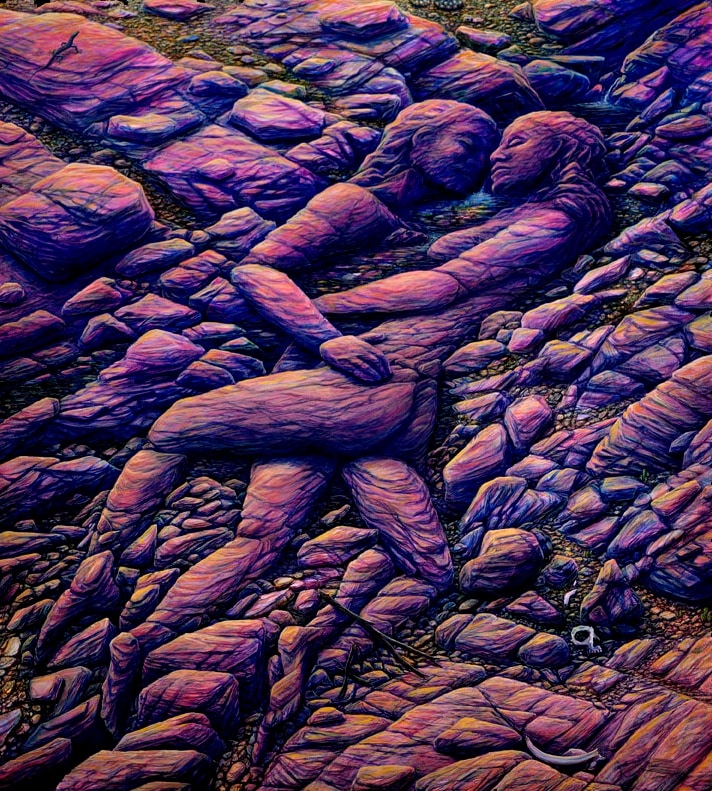 We are offering a 20% discount for all our tapestries. Just use Tapestry as the code at check out.
And last but not least Mark will be participating in Spiritfest 2020 virtually, gallery show, discussion group August 9th, 2020 featuring all the great artist below.
Its the new norm for artists.
The Spiritfest Art Tent will be having its opening on August 8th at 13:00 BST with a live walk through many of the artist's studios! Please use an online time converter to see what time we start in your time zone and join us.
As well as the gallery of 31 artists, we will have a library of artist presentations that you can scroll through and watch at your convenience.
On Sunday August 9th, we will have a live panel discussion and round table on the relationship between art, consciousness and community. Come join: Amanda Sage, Martina Hoffmann, Mark Henson, Jade Leyva, Stuart Grigss, Jake Kobrin and myself. at 13:00 BST
So be safe out there, in there, wherever you are.
And lets get ready to heal our country!
We were born for this.